As the New Year began, I made 3 basic resolutions.
Talk More
Share More
Take it and run with it
I titled the third resolution as so, because I'd been dabbling in anything and everything creative and I was a creative mess. I needed to focus on:
What I enjoyed
What fulfilled me
What could potentially provide a future for Nathan, I and our future family.
I needed to forget the rest. If it didn't do any of those three things, I was wasting my time.
I needed to figure out what it was that I wanted to achieve from all of my creative outlets, including my blog, my shop and my interior design services, that I was offering family and friends. Yes, all of them I enjoyed; all of them fulfilled me and they all could potentially provide for me and my family. Now what?
What I needed was a plan; a plan to help focus my energy and creativity and make my dreams happen. All of these things spark inspiration, happiness and hope to those around me and what more could I ask for? I had 3 creative outlets; my blog, my shop and my interior design services. Now I needed to make them work for me and serve a purpose in this big ole' world.
I addressed my 1st creative outlet, my blog, in my resolutions, under "share more." I needed to post on a regular basis and give readers a reason to read. I have since done that. I post every weekday and focus on topics, such as affordable do-it-yourself home projects and material that inspires and brings happiness and hope to my readers. However, there will always be room for improvement and I will continue to advance and evolve my blog.
This post is addressing my 2nd creative outlet, my shop. My goal is to create affordable printable papergoods. My two goals for my shop this year, was to create:
A Nursery/children's artwork line
A Wedding line, complete with unique save-the-dates, invitations, ceremony programs and thank yous.
This is my first item of my nursery artwork line. A customizable "I ❤ U" alphabet printable.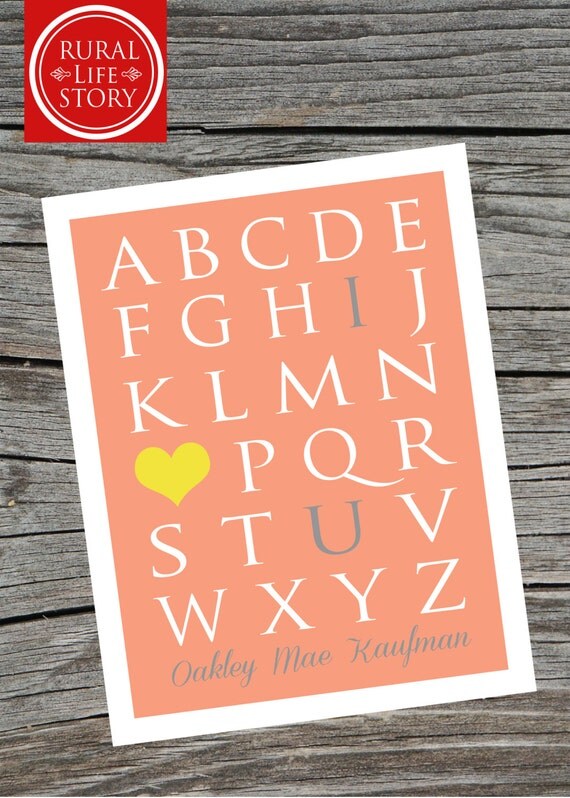 These are 100% customizable to fit any color scheme and at $12.00, they are an affordable and unique piece of artwork for any baby. I will be adding a few more items to the nursery line in the next week and hope to be cranking out a few things for the upcoming wedding line as well.
In the near future, I hope to expand my shop into birthday party invitations, holiday greeting cards, as well as inspirational poster printables. However, I want to stress that anything can be designed for any occasion! No limits. If you have a papergood need, I can create a solution, at an affordable price.
Check out my etsy shop, Rural Life Story, here. You can also link to the shop from the "Shop" tab, here on my blog.  "My Goods" tab, also here on my blog, will be your go to source for any shop updates.